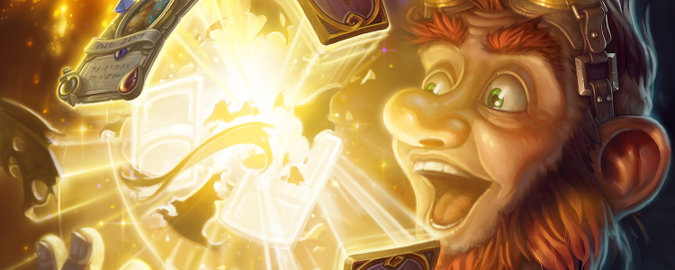 In the course of the past week, we have been releasing a new piece of our Hearthstone content: card descriptions. For each card in Hearthstone, we have a dedicated page on Icy Veins where we explain you how to best use the card and what good synergies it has with other cards. This will allow you to play the cards optimally in both Constructed and Arena
We are also testing an improved format for our decks, with more explanations. We started with the Hunter decks and it is likely that we will expand it to the other classes.
Card Descriptions?
As said above, every card now has its own page on our Hearthstone website. For each card, we give general comments followed by comments pertaining specifically to Constructed and Arena. The idea is to help you play the card optimally, by explaining when the card should be used, when it should not be used, what synergies it has with other cards, etc.
In total, we currently have 348 card pages. As you can imagine, this was quite a lot of work from Poyo, our Hearthstone writer, so please be indulgent if you find that the descriptions for some cards are currently lacking. We will give it a few weeks and then go through all the card descriptions again in order to improve them. This is the same iterative process we use for all our content, basically.
Here is an example with Power of the Wild, a Druid-only card.
New Deck Format
If you look at our 
Hunter decks
, you will notice that the strategy section is different from that of other decks on our website. In these guides, the strategy starts with a number of paragraphs detailing how to properly play the deck. Then, 3 subsections follow and delve into more intricate matters: 
Synergies and Combinations
, 
Mulligan / Starting Hand
, and 
Card Swaps
.
We are confident that this format is very effective and our goal is to apply it to all the other decks soon.
What's Coming Next?
The current Hearthstone content on the website is what we had envisioned to have when we started working with Poyo on covering this game. So, the coming months will be used to refine the content. The original writing effort is always the most difficult and most demanding task. Now that this is behind us for Hearthstone, we are going to dedicate our time to updating the content whenever necessary (instead of whenever we find time).
Also, Curse of Naxxramas is coming up, and this is something that we will want to cover, so stay tuned!

Aiven

Member





Messages

: 3


Glasses

: 8


Standing

: 3


Registered

: 2013-11-18



---
Permissions in this forum:
You
cannot
reply to topics in this forum